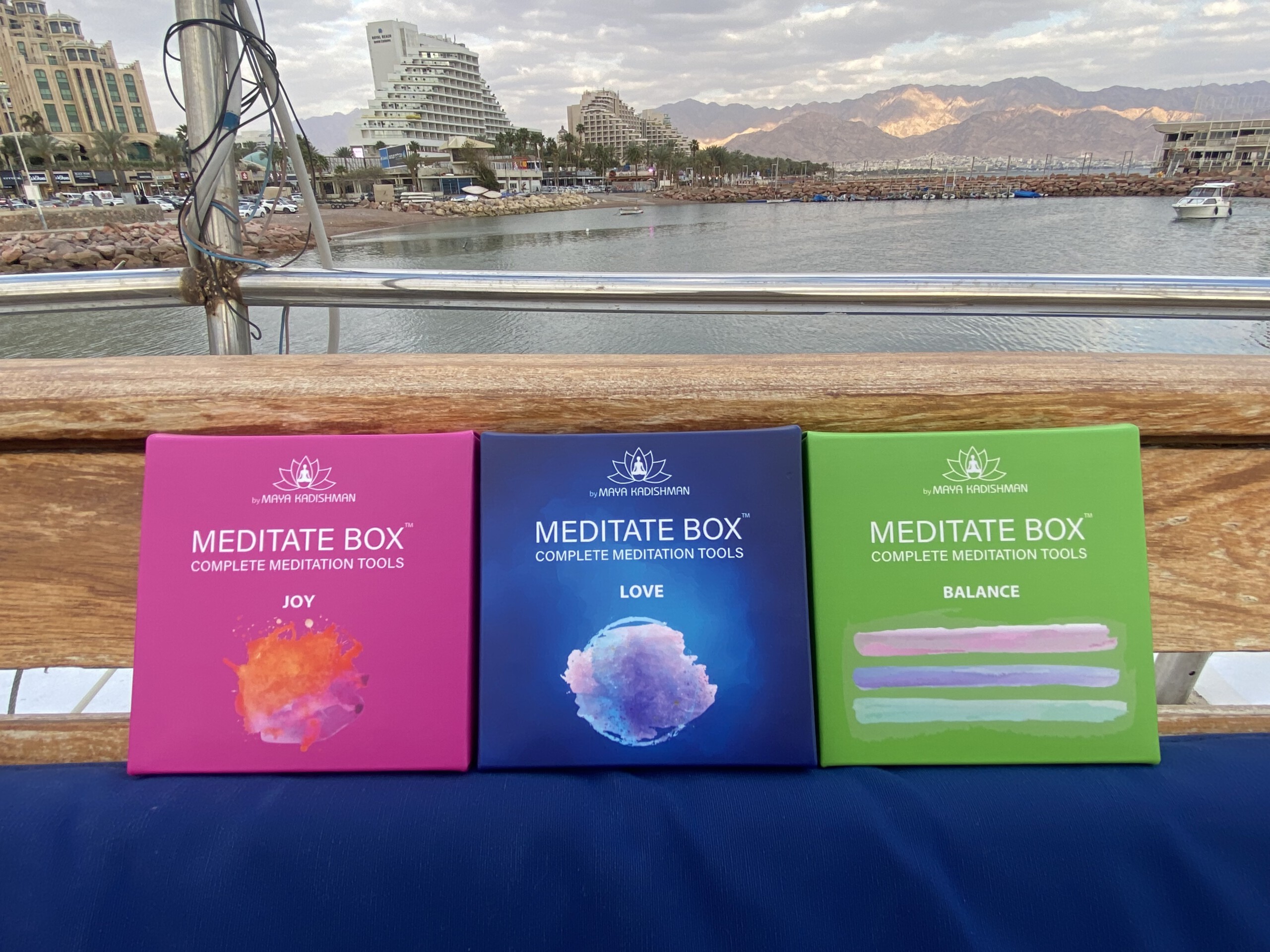 Like many of us, I have recently journeyed through an extremely stressful time of grief, separation and isolation. I intuitively knew the value of having a physical anchor for my well-established mediation practice. During lockdown when I had the opportunity to look deeper within myself I discovered the sacredness (link to Sacredness blog) awaiting inside me. This led me to develop my Meditate Box series, each box a complete multi-sensory kit featuring carefully selected themes, for a speedy reset in any one of the most common areas of stress and distress. Each brightly coloured, beautifully designed box has a key focus such as Sleep, Calm and Abundance.
Neatly arranged inside each compact box is a super-soft cloth, an energetically-aligned precious stone, an appropriate essential oil selected based on my aromatherapy training, a meditation mantra and a link to a guided meditation. And I recommend setting the scene for your meditation session by settling in a comfortable quiet space where you will not be disturbed with a delicious aromatic cup of herbal tea.
Beyond the virtual world we have recently been increasingly limited to, my Meditate Boxes mindfully activate all our senses, bringing faster and more profound effective relief and comfort. As well as viscerally encompassing our senses of sight, sound, touch, smell and taste, the physical experience using each of the boxes gives us a feeling of deep satisfaction.
From my decades of experience with meditation, I know it's most important to access the relaxing meditative state as quickly as possible, and to anchor it. That state can be elusive. By physically using the Mediate Boxes we get the best results. As my clients say, this is sanity in a box!
There is currently a range of a dozen boxes, developed in response to the most common challenging experiences. I plan to further develop the range, and will be able to produce custom ranges on request.
From the age of 16 I started traveling with my mother to a Russian teacher of spiritual development  who lived on a hill above a wonderful lake in the wilderness of Scotland.

If it feels like one, change what makes it feel like one.

It might seem impossible now, But IT IS POSSIBLE

Allow, and you will find the way.

Meditation is in everything. It's when you stir the coffee in the morning while staring at the swirl. And stirring it so many times that you lose count. It's while staring into space for a minute of non-concentration.

Now. Stop. Breathe

When does happy begin? When you stop trying to be happy. When you stop trying to hide what is not happy. Then they appear, one by one, sometimes together.